History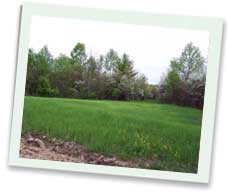 Affluent in history and abundant in natural beauty, Mound Hill Farms is located in beautiful Southeastern Ohio. At the foothills of the Appalachia, this farm and woodland received its name from Indian mounds located on the properties. Two of the large mounds were publicly recognized in the early 1900's after several large stones and the bones of human skeletons were extracted by a Mr. Samuel McCarty and Dr. Cramer. Ancient traditions continue as the area is now used for Ohio deer hunting.
Ohio Hunting
It is written that "Mr. McCarty later returned the items to their original resting place as this deed bore heavily on his conscience." A one room schoolhouse is also located on the property. Mound Hill School was established in 1889 with Mr. Isaac Bail being very influential in it's coming about. Preserving America's heartland and promoting heritage continues to be at the forefront for Mound Hill Farms. A few projects currently underway are the restoration of the old Grange Hall schoolhouse and the promotion of superior wildlife and land management practices to help support sustainable Ohio hunting.
"The Hunt Club's Origin"
Over ten years ago, a plan was surmised to build and develop a first class hunt club geared towards hunting trophy SE Ohio whitetail deer.